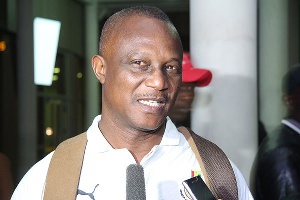 Veteran Coach J. E. Sarpong has called on football authorities in the country to pay off outstanding salaries and bonuses owed fellow coach Kwesi Appiah.
The outspoken former Kotoko and Hearts trainer believes the brouhaha surrounding the outstanding salaries of the former Black Stars coach is needless and misplaced.

Coach J. E. Sarpong made the passionate call on Kumasi-based Akoma 87.9 FM on Thursday.

Responding to a specific question on his thoughts about the infamous legacy debt of the Ghana Football Association (GFA) in relation to the $180,000.00 owed Kwasi Appiah, the veteran coach stated, in Twi, "they should pay him his money and stop all this brouhaha".

"Why should Kwesi Appiah be fighting to take monies he has legitimately worked for? You have sacked the man, why don't you pay him and let him move on?"
The salaries and bonuses of the former Black Stars trainer has become a topical issue within the sporting fraternity following revelations that he was earning $20,000 and $35,000 as match bonus and monthly salary respectively.

Coach J.E. Sarpong, who has been a strong advocate for local trainers to be given national team responsibilities instead of expatriates, also told Akoma FM that it was very deceptive on the side of football authorities to make Ghanaians believe that Black Stars players were on $5,000 winning bonus when in actual fact they were taking more than that.