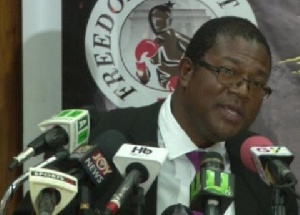 The Ghana Boxing Authority (GBA) has started investigations into the cause of crowd violence that caused the abrupt end of a World Boxing Organisation (WBO) Africa Super Bantamweight title fight between Isaac Sackey and Wasiru Mohammed on Saturday, October 13 at the Bukom Boxing Arena.
In an interview with the GNA Sports, Mr Patrick Johnson, General Secretary of the GBA, said the body was collaborating with all stakeholders in a bid to find the root cause of the violence.

He said they would be able to arrive at a final decision on the issue after thorough investigations and would subsequently sanction severely any party guilty of any offence.

"We are meeting with management of the Trust Emporium, that's the venue, the Ghana Police Service, WBO and the promoters (E&J Promotions), because we have to get gather every available evidence that would enable us get to make a good conclusion," Mr Johnson said.

He said the GBA was embarrassed at the ugly scenes, which resulted in casualties and damaged to properties.

According to him, the GBA was expected to come out publicly with its findings tentatively by close of Tuesday adding that, the investigations would also determine whether there would be a rematch or a winner would be declared.
It was almost a perfect night of pugilism and great atmosphere until the pandemonium disrupted everything.



The violence began, when fans of defending champion Sackey thronged the ring in anger to attack referee Adorn Bertin from Benin for what they claimed was a wrong refereeing decision.

Referee Bertin who had adjudged the title holder unfit to continue the bout for going on the canvas for the second time, stopped the match in the third round in favour of challenger Wasiru.

Sackey's corner-men led by his trainer, Akai Nettey charged on the referee which incited their fans to rowdily react in registering their displeasure.
Fans of Wasiru, also responded in their bid to protect their boxer leading to the ugly clash of both section of fans in the ring.

The chaotic scenes in the ring escalated around the hall with vulnerable individuals running for their lives.

Referee Bertin was hit with one the chairs, that was being hurled around the hall.

Security personnel present were overpowered as they could not control the violent crowd until a reinforced team was called in to restore calm.