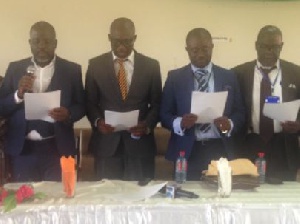 The Ghana Football Association Executive Committee is holding a three-day summit in Cape Coast starting today (Monday) to address problems facing the country's favourite sport while examing the ways of improving on recent successses.
The leadership of the country's football governing body is meeting key internal and external stakeholders to explore the challenges faced by the game in recent times and how these could be solved.

The outcome of the three-day brainstorming initiative led by the president of the GFA, Kwesi Nyantakyi, will be put forward to COngress for consideration to improve the game ahead of the start of the next football season.

On the theme, ''Ghana Football: Stronger Partnerships for a Brighter Future'' the GFA ExCo will also seek to take advantage of recent changes and opportunities in world football to impact positively on the game in the country.

The Ministry of Youth and Sports has been invited to attend the summit with the GFA seeking feedback while courting government's support to help accelerate the development of the game in the nation, particularly the domestic leagues.

Apart from local football, the GFA will also be brainstorming on national teams' issues with the ministry and key among them is the Black Stars failure to qualify for the 2018 World Cup and how this could be averted in future.

The leadership of the Premier League Board, the Division One League, the MTN FA Cup, Women's League as well as National Juvenile Committee – the body responsible youth football in the country – and the Competitions Division of the GFA will also make presentations at the gathering.
The Ghana League Clubs Association (GHALCA) will also make its inputs at the meetings meant to take feedback from the key stakeholders of the game.

The players' welfare body, the Professional Footballers Association of the Ghana (PFAG), has also been invited to make a presentation and put forward their suggestions on how to improve the game in the country from the players' angle.

The judicial system, refereeing and administration have been identified as some of the barriers to the growth of the game in the country as such the leadership of the Judicial bodies, Referees Association of Ghana and the administration of the GFA will also make presentations.

The dangers posed by football betting, match manipulation and match fixing are also issues the Executive Committee is keen on stemming while marketing, sponsorship and revenue generation will also form part of the discussions.

The Sports Writers Association of the Ghana (SWAG) has also been invited to join the summit with the view of listening to the feedback from the media on the various arms of the game in the country.

This is the first time is Executive Committee of the GFA is taking its meeting to Cape Coast as the summit forms part of the innovation of how the game is run in the country.