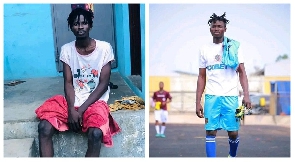 The Director of the GFA Foundation, Malcolm Frazier Appeadu, paid a visit to the ailing former Black Satellites and Black Meteors goalkeeper, William Essu, presenting a donation of GHS10,000.
The purpose of the visit was to check on Essu's condition and convey wishes for his swift recovery.

During the meeting in Cape Coast, Essu shared the progression of his ailment, recounting the setback of missing out on the Black Meteors AFCON squad and describing the challenging period he's endured over the past five months.

Essu expressed deep gratitude to the GFA and the GFA Foundation for their financial support and the care they've shown him.
His brother Alexander Essu noted that since his brother resumed treatment two days prior, there has been a noticeable improvement in his condition.

The Director of the Foundation assured him that the GFA is actively engaged with the Ministry of Youth and Sports to ensure that the due bonus for him and the last Under 23 qualifying team is disbursed.

William Essu played was a member of the National Under 23, Black Meteors team that qualified for the CAF U23 AFCON.