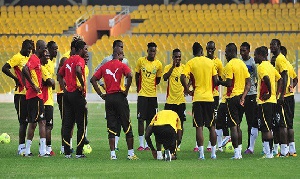 Ghana FA (GFA) are racing in 'fear and panic' to abide by a Christian pastor's demands to avert a fatal plane crash for the senior national team the Black Stars in September, board member Wilfred Osei Palmer has revealed.
Palmer says the federation will not hesitate to abide by God-given directives claimed by Prophet Reindolph Oduro Gyebi to stop the supposed fatal plane crash on the Black Stars journey for a 2018 World Cup qualifier in September in Congo.

The General Overseer of God's Crown Chapel in Kumasi, Prophet Reindolph Oduro Gyebi popularly known as Eagle prophet predicted on Wednesday June 14 on Abusua FM that the Black Stars of Ghana will be involved in a fatal plane crash while former national team legend, Abedi Pele will also pass on through a mysterious disease.

But the GFA Executive committee member who doubles as vice chairman of the Black Stars management committee stressed his outfit will not go unconcerned about the prophecy.

According to him, officials of the FA will reach out to the man of God and comply by any spiritual directives given to him by God and work on it accordingly to avert the gory disaster the devil has plotted to strike the nation.

"I have listened to the Prophet's Prophecy and believe it is something between him and his God but I wouldn't to quash it because I am a Christian who believe in Prophecy" Said Osei Parma.

Quizzed if he has made any attempt to reach the Man of God after hearing the said revelation he replied "I'm tempted to believe that it should have been the other way round because if you look at how he said it and the way the issue has come to the media domain I am of the view that it is creating fear and panic.
"I say in the sense that travelling by air isn't an easy experience therefore if you are always travelling by plane and you hear this you wouldn't be happy and will definitely be worried when you hear such prophecy".

He continued "I think when God revealed this to him, the best thing he should have done was to call me Parma, George Afriyie discuss it with us but when you put it out in the media, then that is where the panic situation I am referring to comes in so I don't think we at the FA are cool with that but that doesn't mean we are not going to listen to his prophecy and work on it to deter the devil's plan but so far as it is in the media it makes our work very difficult".

"My only worry is that if we are not careful when you call any player he will be reluctant to come".

"We are ready to adhere to his advice and do whatever he says to avert the said plane crash, we at the FA will not hesitate to do the needful because we don't joke with issues has to do with spirituality.

"Even the players do not joke with issues that has to do with the spiritual world let alone the management members. We don't play with such things at all particularly when it is something that has to do with the Black Stars'.