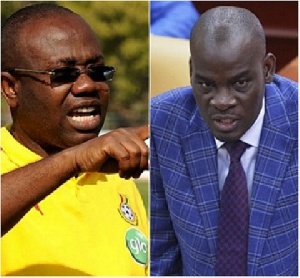 The Minority Leader in Parliament and the MP for Tamale South Constituency, Haruna Iddrisu wants the Ghana Football Association (GFA) to appear before Parliament to explain why the Black Stars failed to qualify for the Russia 2018 World Cup.
Ghana missed out on the Russia showpiece after placing third in Group E, trailing behind leaders, Egypt and second-placed Uganda and the astute politician is calling for reasons for the failure.

Speaking at Parliament Sitting on Friday, December 15, Hon. Iddrisu thinks news of success chalked that are reported must also be done same for Ghana missing out in Russia.

"I have an issue with the Chairman and the Committee members. When it is success, you are happy to report. But you have failed to report on why we failed to qualify for the World Cup having appeared and having performed creditably well". He opined.

According to the former Minister for Employment and Labor Relations, the independence of the GFA as a body is making it difficult for the FA to be opened for probing.
"Mr. Speaker, Sometimes our hands are tight that the GFA is independent. Independent of Who? The GFA cannot be independent of Parliament or the People's Representative". He stated.

Hon Iddrisu bemoaned the state of the league which is below par performance compared to that of Europe. He is, therefore, calling on the Ministry of Youths and Sports to outline their plans for improvement of the national team and the Ghana Premier League.

"If you look at the Foreign Leagues, what has made the EPL top earns and very exciting? One of these days, I encourage the Parliamentary Select Committee of Youths and Sports to hold the GFA to give us a blue Print on how they intend to improve the performance of all the National Teams and all competitions in Ghana." He concluded.