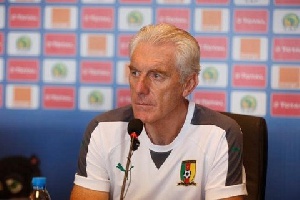 Cameroon coach Hugo Broos has been summoned to meet the country's sports ministry and federation On Tuesday after it emerged that the trainer is eyeing a move to coach Ghana.
Angry ministry and federation officials have called the Indomitable Lions head coach into a meeting to discuss widespread media reports in Ghana that he is on the verge of joining the Black Stars.

This comes just two days after the Belgian was interviewed by the Ghana Football Association (GFA) with the view of taking over the Black Stars vacant position.

Broos was originally invited by the ministry to reveal the details of the Indomitable Lions' shambolic preparation for last month's international break friendly in Belgium.

But with details of the coach undergoing an interview with the GFA, Cameroon sports ministry and federation officials have decided to make the Ghana approach central to the meeting.

The Belgian is currently under contract with the Indomitable Lions and suggestions that he has been interviewed by Ghana is tantamount to him breaking his agreement with Cameroon.
Ghana could also be in hot waters if it is proven that they have approached the Cameroon coach whose contract is protected under FIFA laws.

A breach of this law is what is widely described up ''tapping up'' which means an attempt to grab someone under contract without a formal approach.

Broos is said to be unhappy over his time with Cameroon and shambolic preparation for last month's friendly against Guinea is widely believed to have been the cause of the 2-1 defeat.

He threatened to quit the post because of months of unpaid salaries while bad organisation from the federation looks to have compounded the coach's worries about the Lions.

However, the Cameroon FA is desperate to keep the coach who has been instrumental in the rise of the side condemned by many as ordinary but he helped them to win the Africa Cup of Nations title in February.
Broos was among three coaches reported to have interviewed by the Ghana FA on Friday as they seek a replacement for coach Avram Grant.

Kwesi Appiah and Willy Sagnol were also interviewed for the post and the Ghana FA is expected to announce the new coach in the coming weeks.

Broos has been tipped among the favourites for the Black Stars coaching post thanks to his record of winning the Africa Cup of Nations with Cameroon.