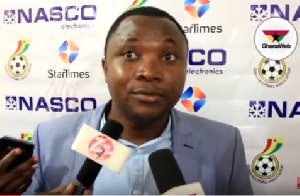 Communication director of the Ghana Football Association Ibrahim Sannie Daara has admitted that Ghana's chances of qualifying to next year's FIFA World Cup in Russia looks frowzy, but says all is not lost.
The Black Stars are on the brink of losing out on a place in next year's FIFA World Cup finals following their underwhelming qualifying campaign, where they are sitting third on the standings, four behind leaders Egypt with two games to end.

Many football enthusiasts have already given up hope on the team's chances after Egypt took a commanding lead on the log, and only need four points in their final two games to seal qualification.

In an interview with Happy FM's, the nation's football governing body spokesperson reckoned that the task at hand looks lofty but they're not ready to give up yet.

"On paper we have a chance because looking at what Congo did to us here, same could happen to Egypt. Who predicted that Gabon will beat Ivory Coast," says Sannie Daara.
"Imagine that Ghana beat Uganda in Kampala and Congo manage to pick a draw or beat Egypt, it'll mean we're still in the picture then the final game in Kumasi will be a decider, so we shouldn't throw in the towel yet. We should rather encourage the players," he added.

"The fight will not come cheap because Egypt are doing everything at all cost to secure the ticket. They have gone through a lot in the last few years and have realised that they can use football to unite the country hence they're very eager to qualify."

"Everywhere we'll go Egypt have already been there. Everything we've done, they have done same so it has made things difficult for us. We're in this country crying about how to invest in football but Egypt have made it clear that they have unlimited cash to invest to achieve their goal," Sannie concluded.