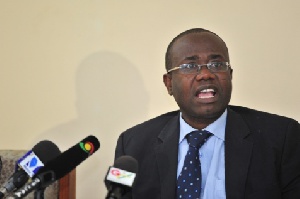 The Ghana Football Association has successfully wrapped up a 3-day stakeholders meeting in Cape Coast in the Central region to address the falling standards of football in the country.
According to GFA President Kwesi Nyantakyi, a number of recommendations have been adopted which will be put before congress at its next meeting.

What will be good news to many, especially media organisations, is the FA's strong stance on punishing clubs who prevent coverage of their league matches.

According to the FA President, going forward from next season, teams who engage in such acts will forfeit their points.

Key highlights from the 3 day meeting also include

Restructuring of Ghana Premier League and FA Cup

Restructuring of players salary in consultation with PFA and Clubs
Each GPL team to introduce U-17 teams from next season

Serious sanctions for bribe peddlers

GHC 20,000 reward for whistle blowers against bribery

More support for Women's Football

The GFA president also noted that the FA is working assiduously to find a sponsor for the Ghana Premier League before the start of next season.

Mr. Nyantakyi was not sure of the commencement date for the Ghana premier league but hinted that it could start in January or February. Highly criticized for his lack of attention to the Ghana Premier League, Nyantakyi conceded that he also owns a club in the Ghana Premier League (WA All Stars) and understands what stakeholders go through to complete a season.