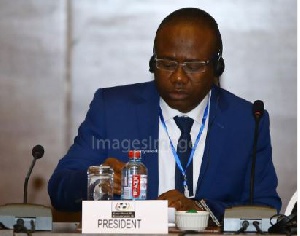 The Ghana FA is ready to reward anyone who reports issues of bribery and match-fixing in Ghana football with evidence with an amount of $4,500 equivalent to GHC20,000.
The FA in its attempt to arrest the cancerous disease of match-fixing in the Ghanaian game want to encourage people to on the look-out for perpetrators of such illegal acts.

With this, many journalists could stay away from their monthly salaries as their investigations and evidence of match-fixing and bribery could earn them enough to save.

The decision was made public after the 3-day summit by the Ghana FA in Cape Coast to brainstorm on the way forward for the development of the game.

"We're proposing a GHC20,000 prize money for anyone who comes forward to report any case of bribery with evidence not just an allegation," Kwesi Nyantakyi said.

"If a referee is approached by a club official, we are encouraging them to come forward and report the club officials for the package," he added.
Kwesi Nyantakyi further explained that the attempt is to discourage people from engaging in those acts.

"It is one of the things we will be doing next season to discourage corruption and to champion our crusade against corruption. We are putting aside the incentive package for anyone who will come forward to report any corrupt practices.

"It is one of the ways we want to discourage people from engaging in bribery and corrupt practices.

He was however emphatic that any such person must back his claim by concrete evidence and not by mere allegation.