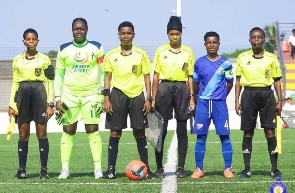 The Ghana Football Association has disclosed that it intends to promote the Women's League by using it as a curtain-raiser for Ghana Premier League matches.
According to the GFA, the move forms part of efforts to make women's football more attractive in Ghana.

Speaking at the media event to usher in the new Women's Premier League season, Prosper Harrison Addo, General Secretary of the GFA shared ways the FA intends to promote the league.

"We are also exploring to see if we can get some of the matches as curtain raisers for the men's game. I know there are various challenges there, sometimes the men are not welcoming, we understand but we will continue to push that agenda because it is only right that we have some of the matches as curtain raisers," he said.

He also commended some local clubs for establishing women's club and noted that it would be a requirement to play at CAF and FIFA tournaments.
"The quest from FIFA and CAF is that we need the big teams in the country to create women's teams.

"I'm happy that Accra Hearts of Oak are ready to start their women's team. We can only be proud of this and urge others to start. It is going to be a major requirement going forward when you play in Africa," Prosper Harrison Addo stated.

JNA/SARA