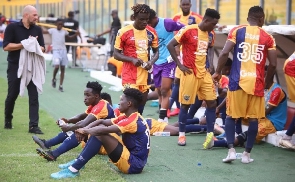 Wed, 24 May 2023 Source: Sackey Benjamin, Contributor
Public Relations officer (PRO) of Accra Hearts of Oak, Kwame Opare Addo, says he is optimistic the club will finish the season on a high note despite their poor start.
According to him, the infinitesimal point difference among teams in the Betpawa Ghana Premier League indicates that if they do well in the remaining matches, they can achieve a high finish.

The rainbow club has been eliminated from the MTN FA Cup and currently occupies the eighth position with 45 points on the league table.

In an exclusive interview on Radio Univers Sports Express show, Mr. Opare Addo was confident that the Phobians would show up in the last two matches.

"Even though we still have one three matches to go, the four remaining matches will be able to decide a lot of things on the league table as to who wins the title, who will place second or third and who will be relegated.

Apart from Kotoku Royals, who have been relegated already, we wait to see who joins them in relegation. So I am very sure that at the end of the entire season, we will be able to judge whatever that has happened. So far, what I can say is that even though we have been kicked out of the MTN FA Cup, we are still very much confident that in the final four matches, we have to put in our very best. We continue to pick it game after game so that collectively at the end of the season, there will be something very promising to show for the season," he told Univers Sports.
Mr. Addo also alluded to the abysmal performance of Hearts of Oak this season on unfair officiating and added that they will learn their lessons at the end of the season and bounce back stronger next season.

"In football, we prepare to go into the game to ensure that we are able to pick three points. There have been instances where the team has prepared to come to the pitch, you play the best of your game, but circumstances will ensure that you probably don't get points or you lose all three points. We are saying that as a club, we have continually said that it is not helping the image of Ghana football because football should be won fairly on the pitch. If you want to develop a game and go very high, that is an aspect you have to look at. No form of intimidation and other things will help develop our game.

"We'll say that in recent times the responses are beginning to be okay but going forward, it can be better. For us, at the end of the season, whatever the lessons are, we will put them down, and the coaches will work on it. Whatever management and the board have to do, they will also work on it. We will continue to work on it so that next season we can get better," the PRO of Hearts of Oak revealed to Univers Sports.

The Phobians will take on Legon Cities in an away fixture in their next Betpawa Premier League game on Saturday, May 27, 2023.

Hearts of Oak will be hoping to at least finish in the top four to appease their supporters for the disappointing performance this season.
Source: Sackey Benjamin, Contributor