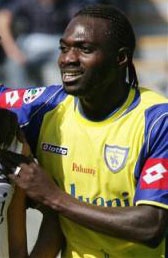 Mon, 7 Jul 2008 Source: 90 Minutes Newspaper
AFTER completing the signing of Australian international, Harry Kewell on a free transfer, Turkish champions Galatasaray have made Ghana's stand-in captain John Mensah, another potential target to marshall their defence in their quest to launch a serious assault on the UEFA Champions League.

Mensah has been identified as the defensive hardman to replace Cameroonian international, Rigobert Song, who has left for Trabzonspor after four years with the club. It has been revealed that Michael Skibbe, manager of the Istanbul based club has been following the exploits of the Rennes combative centre back and is rumored to have personally watched a couple of games featuring Mensah.


In an exclusive interview granted by John Mensah over the weekend to 90 Minutes, the Black Stars stand-in captain acknowledged the interest from the Turkcell Süper Lig champions. "I'm aware that Galatasaray are keen on my services. But it's not just them alone. Portsmouth, Wigan and recently Olympic Marseille together with a big club in Europe whom I prefer not to mention have also shown their interest in my services. However, my agent is the one doing all the negotiations as I still remain a Rennes player."


Touching on Ghana's games in the ongoing joint qualification games for the 2010 World/Nations Cup tournaments, John was optimistic and said they will make the nation proud by qualifying and going one step better than their heroic performances in Germany. "Looking at our performance at Germany 2006, we did well considering that it was our first attempt. Much is expected of us to be at Angola and South Africa in 2010 and I promise we won't disappoint the nation. The games will not be easy but I can assure everyone that we are up for the challenge and come September, we will be at the top of group 5".

John slammed reports of being complacent as captain in the absence of injured Stephen Appiah saying: "I don't have a problem being the captain. I have been captain on so many occasions and I can even recall being the captain in a game against Saudi Arabia when we won 3-1." With Ghana still on the lookout for a substantive coach for the Black Stars, John Mensah added his voice: "I can't say the FA should go in for a white or black coach and I have made my position on the topic clear to the FA. All that we the players are asking for is a competent coach who will be up to the task.


The entire team has absolute belief in the FA and we trust them to get us a competent one." Mensah who has recently made various donations to the needy explained that his Christian values compelled him to be charitable to the unfortunate ones and urged Ghanaians to lend a helping hand to the less fortunate in society.

Source: 90 Minutes Newspaper