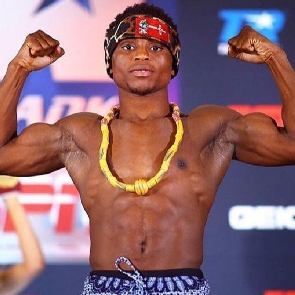 Ghana's former World Boxing Organization (WBO) super bantamweight champion, Isaac 'Royal Storm' Dogboe, is hoping to get his career back on track when he makes a return to the ring in April, 2020.
The dethroned champion who has had a difficult couple of months in his career will take on Mexican Enrique Bernacheon, on April 11 in USA.

Dogboe hopes a win in this fight will return him into the reckoning for another world title shot.

Dogboe who lost his world title to Navarrete in two consecutive fights in December 2018 and May 2019, has relocated to the United States of America, and is preparing feverishly for his ring return nearly a year since last suffering a 12th round technical knockout defeat to Navarrete in their rematch last May.

Team Dogboe while optimistic that Isaac can return to the summit of World boxing is also aware another defeat could be bad for the progression of the 25-year-old.

Confirming his son's return to the ring, the father and former trainer, Paul Dogboe, told TV Africa that they were preparing to ensure Dogboe had a successful return against the Mexican.
He told the Accra-based TV station that the former champion was in good shape under his new trainers - Barry Hunter and Patrice Harris - in Florida and believed his son was in good hands to return to the top.

" Isaac Dogboe is in good condition under his new trainers in Florida and I can tell you that they are working tirelessly to ensure he makes a successful return to the ring.

"I believe he is in good hands with the new trainers and I can tell you that everything has been put in place to make him a two-time world champion," he explained.

Bernacheon, on the other hand, comes into the fight with 36 fights to his credit, with 24 wins and 12 defeats. The 30 -year -old Mexican is winless in his last two fights with Can Xu and Emilio Sanchez in 2018.