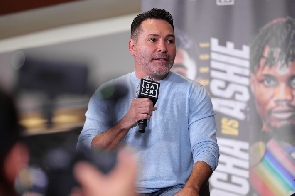 Boxing legend Oscar de La Hoya believes Ghana's George Ashie would be a tough nut to crack for his boxer Alexis Rocha in their bout for the World Boxing Organization (WBO) North American Boxing Organization (NABO) Welterweight title on Saturday, January 28, 2023.
The fight which is being organized by de La Hoya's Golden Boy Promotions would take place at the YouTube Theater, Inglewood in the US would be the first time since 2018 that Ashie would be fighting outside Ghana.

Ahead of the fight, Oscar de La Hoya disclosed that there is something about Ghanaians which gives him chills that the bout would be nothing short of fireworks.

"I know we do have a difficult and tough guy from Ghana for Rocha on Saturday. Last-minute replacements are a drag and not good for anybody. I am very confident that this fight is probably gonna be tougher for Rocha. Just the fact that he is from Ghana," the legend said.

"Just the fact that he is from Ghana. I hear Ghana and I think of the master of fireworks (Ike 'Bazooka' Quartey). I still get chills when they mention Ghana. It's gonna be a good main event," Oscar de La Hoya said.
George "Red Tiger" Ashie could become the first Ghanaian boxer to win a title in 2023 when he faces defending champion Alexis "Lex" Rocha for the title.

Ashie who has won his last five bouts by way of knockouts comes up against an American boxer who has equally won his last five bouts.

George Ashie possesses a record of 36 fights, 33 wins with 25 knockouts, 5 defeats and 1 draw. Alexis Rocha also boasts of a record 21 wins with 13 knockouts and 1 defeat in 22 career fights.

JNA/SARA