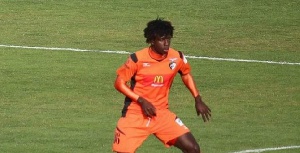 Black Meteors defender Edward Sarpong has opened up about the build up that led to his decisive penalty miss against South Africa in the third place playoff game at the just ended U23 AFCON.
The match traveled to penalty shootouts after a pulsating 2-2 draw in regulation time.

The Portugal based left-back blasted high what would have been an historic kick to send Ghana through to the Olympics for the first time in 15 years.

Sarpong revealed in an interview that everyone was running from the responsibility after the first five kicks hence his decision to step up and take that crucial penalty
"After the first five kicks, we asked amongst ourselves that who takes the next kick, it was a deliberation between the players but everyone was reluctant to answer the call so I decided to take it. I was always been pretty good at spot kicks in training and for my club and I was confident I was going to score but unfortunately I missed" he told Adom FM

The 22 year old was one of three Ghanaians who failed to score from the spot as they eventually lost out 6-5 to young bafana.