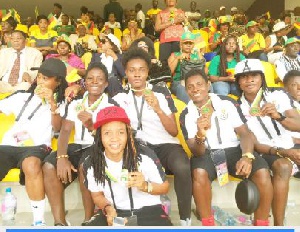 Ghana's youth and sports minister Nii Lante Vanderpuye has commended the efforts of Ghana Football Association following their successful organisation of Womens' football in the country.
In a speech read on his behalf by the chief director of the ministry, Frank Quist, at the Ghana FA annual congress, he noted that all the female teams qualified for major tournaments in recent years while Black the Queens picked bronze at the 2016 Africa Women's Nations Cup.

"At this juncture, I will commend the Ghana FA for the level they have taken women football to [within the past few years]. Women's football has come of age through the effort of the GFA," the speech outlined.

"The Black Queens won gold at the All Africa Games and placed third at the Africa Women Championship while all the other teams also qualified for the respective World Cups.

"I also wish to call on the clubs to do their possible best to get their own sponsors to augment the effort of the GFA. You (the clubs) should not rely only on the sponsorship package from the GFA," the speech added.
A new $500,000 Fifa-financed artificial turf for national teams was commissioned at the Ghanaman Soccer Center of Excellence after the congress.

Vanderpuye, despite retaining his seat in the parliamentary elections, is likely to vacate the sports ministry after his NDC party lost to NPP in the general elections.

A new minister is expected to be appointed by the incoming administration in January.