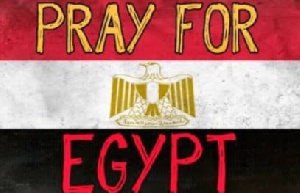 Ghana football is commiserating with the people of Egypt after a bomb attack on a mosque on Friday left more than 200 people dead.
This was after dozens of militants set off a suicide bomb and opened fire at a mosque in Egypt's restive northern Sinai province in the worst religious extremism attack the country has ever faced.

The attack on Friday targeted supporters of the security forces attending prayers there, two eyewitnesses and a security source said.

Four off-road vehicles arrived at the majority-Sufi Al Rawdah mosque in Bir al-Abed, near Arish city, during the sermon section of prayers.
Survivors told local media that those who were not killed in the blast and tried to run away were gunned down and the gunmen set vehicles on fire to block access to the building.

A statement on the Ghana FA Twitter handle read: ''We stand with our brothers #Egypt after the attack on a mosque. We are devastated by the loss of lives and our condolences go out the families and people of #Egypt . Our hearts cry for the beautiful kids who lost their lives and families torn apart forever #PrayForEgypt.''