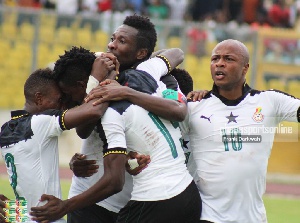 Ghana FA Executive committee member Francis Dogbatse insists the federation cannot be held liable for the recent woes of the Black Stars.
The Ghana FA has come under line of fire for the country's unflattering start to the 2018 World Cup qualifying campaign.

The hopes of the four-time African champions appear to have been dashed after being held to a pulsating 1-1 stalemate at home to Congo on Friday.

And top officials of the FA have not been spared the brunt of criticism with claims of disunity cited as the chief reason for the team's disastrous campaign so far.
But Francis Dogbatse, who doubles as the Volta Regional FA chief, has parried the accusations.

"I disagree with people blaming the GFA for this under performance of the Black Stars team, yes, it was a heart breaking one and it leaves us all disappointing but why would one choose to blame the GFA for this?, he quizzed Sportsnetghana.com

"I think Ghanaians must understand that it was a battle we all went but failed to conquer and stop this blame games, in any case what of the players on the field of play and the technical team members, were they not directly in charge of our qualification and the game on that day, i repeat we all lost it together and it will be better for us to reorganize ourselves for 2019 AFCON and restructure the team as well," he added.