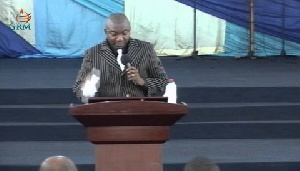 The office of the Ghana Olympic Committee deputy secretary, Reverend Richmond Quarcoo, has been ransacked in the wake of the visa fraud scandal which has hit the sporting fraternity.
At least 50 'fake' Ghanaian journalists are due for deportation from Australia where the Commonwealth Games are being held. Quarcoo is believed to have made some explanations on a local radio Station on the current Australia visa fraud debacle.

Some vital documents were taken away from his office and the data system of the administrator was tampered with.

"I don't know those who did this, it was my secretary who informed me this morning that my office has been ransacked, for me I distanced myself from what is currently happening on this visa fraud," he told Starr Sports.
Rev. Quarcoo has reported the case to the Ministry Police Station.

Meanwhile, over 14 deportees have been released after being detained last week Wednesday.