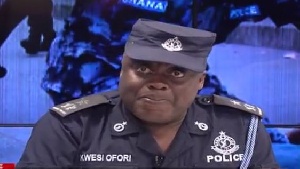 The Chief Superintendent of Police, Kwesi Ofori has stated that the Police Service has learnt a lot from the May 9 disaster which saw 127 fans losing their lives at the Accra Sports Stadium, 19 years ago.
The unfortunate incident occurred at the Accra Sports Stadium after a Ghana Premier League game between Hearts of Oak and Asante Kotoko.

Accra Hearts of Oak was leading 2-1 against Asante Kotoko with five minutes left in the game when Kotoko supporters began throwing bottles and chairs onto the field at the 45,000-capacity Accra Sports Stadium, witnesses said.

Police responded by firing tear gas, creating panic in the stands as spectators rushed to escape, but the main gate was locked, witnesses said.

The disaster led to the formation of a Commission of Enquiry to investigate the happenings at the venue and also to make recommendations to ensure such incident are prevented in the future.

The three police who were charged were exonerated two years after the incident.

In an interview with Happy FM on how the police have fared in crowd control and stadium policing since the incident, ACP Kwesi Ofori insisted the police have learnt a lot from what happened 19 years ago.
"The Ghana Police Service has learnt a lot from that incident 19 years ago.

"The Police was blamed for that incident and the Service has learnt a lot from it. So far the Police Service has policed a lot of matches at our various stadia without any incident.

"Following that we took a look at crowd control at the stadium which led to the creation of a Rapid Deployment Force. Now we deploy officers from this unit supported by other units for sports on how to manage crowd.

He finished by adding that the Police Service has injected discipline, dynamism, professionalism and good policing in its work to ensure the safety of fans at the stadium.

The Police now have adopted a lot of various strategies to help in policing well at the stadium, he noted.