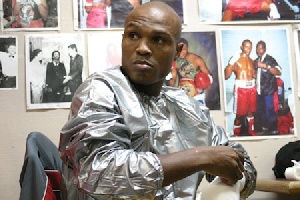 Former WBA welterweight champion, Ike 'Bazooka' Quartey says boxing in Ghana has lost its relevance.
"Ghana boxing is dead because the way it's being handled we can't get a World champion and if we want to get champions like DK posion, Azumah Nelson we have to start from juvenile," Ike Quartey told Kasapa sports.

According to him, before a boxer becomes a world champion, he should first be an amateur boxer.
When asked if he will contest as the President/Chairman of Ghana Amateur Boxing in the future? he replied "Initially I told them and I was told to come and contest but I refused because nobody can contest me in boxing in Africa so if they want me to be the chairman of the Amateur Boxing in Ghana, they should write to me."