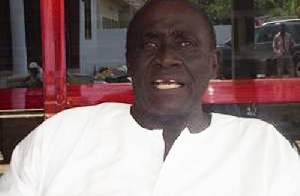 Experienced football administrator, Nana Fitz, is wailing over the current state of football in the country.
He said in an interview that the globular game is taking a serious nosedive, comparing it to the days of old, and has indicated that the earlier stakeholders address the phenomenon, the better it will be for the nation.

The tough talking soccer sympathizer has said pragmatic measures like administrators esteeming truthfulness should be one of the steps to put it back on track.

He pointed out that media practitioners telling administrators in the face of wrong doings is another way to salvage the situation.

Nana mentioned, "You see Ghana football, as it is, truthfully it is sinking comparing it to the past, the truth of the matter is football is sinking and we have to do something about it.
"Number one, we should be truthful, everybody must play the watchdog role, if it is white, say it as it is. Nobody should be afraid to tell the truth."

He added "People are afraid to tell the truth that Kwesi Nyantakyi's FA is not doing well, and nobody can't convince me that it is not as a result of his bad administration. People are afraid to talk, tell them so that they will back up. You can't tell me today that football is doing well as we speak.

"That is not to say I hate Nyantakyi, he is my 'son' but when it comes to football, it is dead as far as I am concerned. The FA can't run away from the fact that they are not the cause of the current state of football in the country."