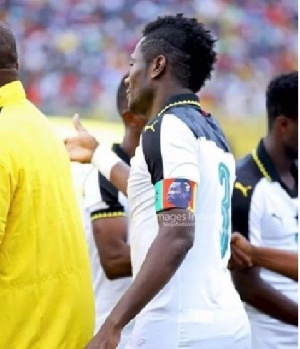 Ghana must get a replacement for super striker Asamoah Gyan and fast, ex-captain Stephen Appiah has urged.
The 31-year-old, who has scored 50 international goals for the West African giants, is in the twilight of his illustrious career.

There are widespread fears the emerging stars will struggle to fill the void expected to be created in the absence of the Al Ahli attacker.

And Juventus legend Stephen Appiah, who has been credited with the team's rise to fame, is urging authorities to look for his replacement.

"Gyan is an excellent player, he is a great player, scoring 50 goals for the national team is not easy," he said on GHone TV.
"You know he can't play forever and he is at his peak now, even though he is still our top scorer and he is still scoring.

"It is very important that at this point we get someone who can succeed him and so we can count on the person anytime Gyan is not around."

Swiss-based striker Raphael Dwamena has been hugely tipped to take over from the former Sunderland hitman.