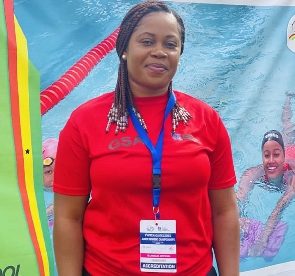 Mon, 20 Nov 2023 Source: Solomon Eshun, Contributor
Yase Eshun was appointed as an International Technical Official on behalf of Ghana for World Aquatics (formerly known as FINA), the world governing body for swimming and other sports.
She is among the few women who have successfully attended the FINA School to be certified as a FINA Official and has been duly registered in the World Aquatics General Management System.

She was previously appointed as the only female member of the Technical Committee of the Ghana Swimming Association, and she is still a member there.

The woman who started as a swimmer moved to become a lifeguard.

She subsequently became a certified FINA coach and formed her swimming club.

Now she has moved to the administrative level of swimming, promoting the sports for women and the nation.
In a letter written to her by the Ghana Swimming Association (GSA) to acknowledge her new position in 2021, the body expressed their honour and pleasure in appointing her.

"The Executive Council of the Association has the honour and pleasure to appoint you as a Member of the Technical Committee. Your appointment takes immediate effect.

"Your immediate task is to prepare a team to participate in the 14th CANA African Junior and Senior Swimming and Open Water Championship scheduled for 11th–17th October 2021 in Accra, Ghana," a portion of the letter stated.


Source: Solomon Eshun, Contributor