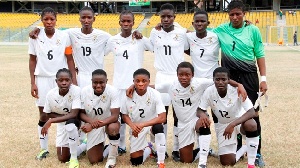 Vice Chairman for the Ghana's female U17 team Samuel Oduro Nyarko wants the qualification bonus of the team paid, seven months after the FIFA U17 Women's World Cup ended.
The Black Maidens crashed out of the World Cup held in Costa Rica after suffering a plethora of poor officiating against Italy in the quarter-finals.

However, seven months after qualifying to the global piece in Costa Rica, the Black Maidens are yet to receive their qualification bonus after beating Congo Brazzaville and Equatorial Guinea.

"This team qualified early this year and as we speak they have not been paid their qualification bonus," he told Accra-based Happy FM.
"I'm just pleading with authorities to them their due because they have also sacrificed for the nation.

"If after qualifying for all these months, they have not received what is due them then it is hugely unfortunate.

"But like I said, I am pleading with authorities to settle the outstanding debt owed these players. It is very unfair."