Cricket Wed, 5 Jul 2017
Click to read all about coronavirus →
The Ghana national Cricket U-19 team lifted their hopes of qualification to 2018 ICC CWC in New Zealand with a convincing win over Botswana on match day 3 at the Africa division 1 qualifier in Kenya, Nairobi.
The Africa division 2 winners, who lost their previous 2 games to host Kenya and Uganda by 82 runs and 32 runs respectively, found their rhythm against Botswana on Tuesday, July 4 at the Gymkhana Club Ground.

Ghana won toss and decided to field first giving way for Botswana to score 113/10 in 36.1 overs. Tharindu Perera scored 24 runs off 40 balls while Valentine Mbazo also scored 24 runs off 43 balls.

Joseph Aboagye took 7/15 in 9.1 overs, a feat which is a record bowling figure in the tournament so far.
Ghana who needed 114 runs from 300 balls in the second innings, scored 115/4 in 25.4 overs, which is 4.48 runs per over, therefore winning by 6 Wickets.

Rexford Bakum scored 54 runs off 56 balls whereas Michael Aboagye scored 14 runsoff 14 balls, not out. Botswana's Lawrence Ntshontsi took 2/21 in 5 overs.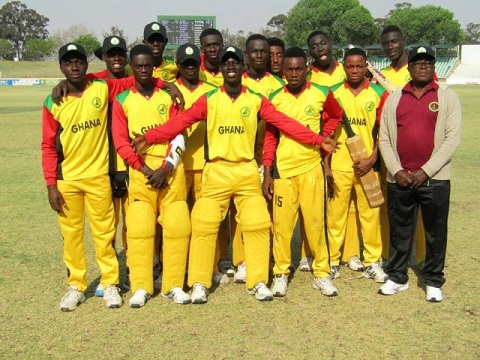 Send your news stories to and via WhatsApp on +233 55 2699 625.