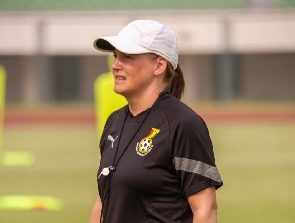 Former Black Queens head coach Mercy Tagoe-Quarcoo has passionately called on her fellow Ghanaians to throw their weight behind Nora Hauptle, the current coach of the team.
Tagoe-Quarcoo has expressed her delight at the impressive performance of the team under Nora Hauptle's leadership.

She commended the Black Queens for their outstanding display in the first round of qualification for the 2024 Paris Olympic Games, where they secured a remarkable 7-0 aggregate victory over Guinea.

This dominant performance has sparked a wave of optimism and enthusiasm for women's football in the country.

With Nora Hauptle at the helm, the Black Queens have not conceded a single goal in their last five matches.
Mercy Tagoe-Quarcoo called for unity and solidarity among Ghanaians in supporting Nora Hauptle's journey with the Black Queens.

"I am so happy, trust me. In all situations, Ghana is paramount. We all need to support Nora to succeed," Tagoe-Quarcoo stated emphatically. She urged the nation to put aside personal differences and rally behind the coach to propel the Black Queens to greater heights.

"Ghanaians are yearning to see the Ghana female national team in the World Cup, in the Olympics; it doesn't matter if it is Mercy Tagoe, it's about women's football. Let's all support, put everything aside, and support Nora to succeed," she added.