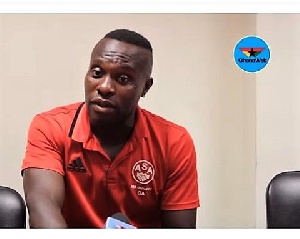 Former Ghana international, Godwin Attram has shared his views on the constant struggles of Ghana Premier League superstars who fail to shine in the Black Stars jersey.
The issue has become a major concern to many Ghanaians with some blaming the technical handlers for not giving the local players equal opportunities as their counterparts from Europe.

Attram who featured nine times for Ghana and scored once has attributed the problem to the local players not having enough confidence in their own abilities when they are in the national team.

"Sometimes fans will say we didn't do this for this player or that player but nobody will do it for you unless you do it yourself. Our local players here, their mentality is the problem. That is why when you leave here your mentality changes, then you become a different person...
"With talent, you can't tell me talent will decrease in Ghana because there is an abundance of talent here in the country. I always say that if you talk like that I will tell you the old players (like) Mohammed Polo, Jomens, Pele, George Alhassan, Shamo Quaye started before it got to us. Essien, Sulley and Asamoah, so why are we now saying that we don't have enough talent in the country?" he said on Ernest Brew Smith TV on YouTube.

Godwin Attram made his debut for the Black Stars in 1997 while playing in the Eredivisie for PSV Eindhoven.