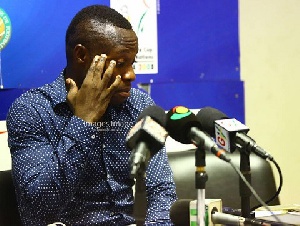 Embattled Great Olympics coach Godwin Attram has revealed a three-man list from which he wants the next Ghana coach to be selected.
The Ghana FA is set to name a new coach for the Black Stars in the coming weeks, amid calls for the appointment of a local trainer.

Deadline for submission of applications for the job has elapsed.

"I will urge the Ghana Football Association to give the Black Stars coaching role to Maxwell Konadu, Didi Dramani or Ibrahim Tanko," Attram told Football Ghana.

"These are the local coaches I believe can deliver for the country when given the nod to lead the senior national team.
"They have been in the game for quite some time now and with all the experience they possess at the moment, they can go all the way to deliver."

Konadu, who has been Ghana's assistant coach since 2012, has been handed the job in the interim until a substantive coach is appointed.

Attram is currently under fire for Olympics poor start to the Ghana Premier League.

The 'Dade' Boys have drawn two and lost four of six games thus far, leaving them bottom of the table.