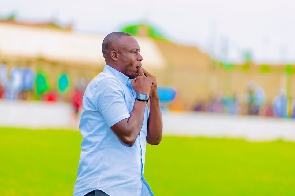 The management of Bibiani Gold Stars has initiated steps to ensure the club does not suffer relegation at the end of the 2023/24 Ghana Premier League season.
The club on Monday, November 21, called an emergency meeting with head coach Michael Osei to discuss the poor performance of the team in the Ghanaian top-flight league.

At the meeting, it was agreed that the team's position in the relegation zone of the Ghana Premier League standings is not good enough.

As part of the plan to sort things out, Gold Stars have directed coach Michael Osei to proceed on a short leave.

"Considering the team's recent performance and associated results, the management and the head Coach - Mr. Micheal Osei has recognized the need to take proactive measures to restore the team back to glory.
"In this regard, it is approved for the head coach to take a short leave of absence to enable us collectively address the challenges and review existing plans for future positive results," parts of the release from Gold Stars said on Monday.

It added, "We plead with our supporters to manage their confidence as we plan to restore the success of the club."

After 11 games in the Ghana Premier League this season, Gold Stars are 17th on the league table with 11 points.