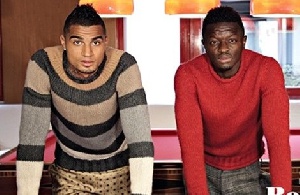 Outgoing Black Stars coach Avram Grant wants Ghana Football Association to reconsider their decision on Kevin-Prince Boateng and Sulley Ali Muntari, who were handed indefinite suspension from the team in 2014.
The two players were expelled from camp during the 2014 Fifa World Cup in Brazil, following disciplinary issues with the staff over late payment of bonuses.

Grant, who is expected to vacate his role by end of the month, took over from Kwesi Appiah in December 2014.

"I think the two players must be invited again, not just one of them. Sulley Muntari and Kevin-Prince Boateng are very good players and can help the nation in future tournaments with their qualities and experiences," Grant told Starr FM.

"I am sad that I am leaving Ghana. It was an intensive two years and one month. The beginning was tough but with time it got better," he added.
Despite wide criticism of his leadership, Grant insists he has done a good job for Ghana, who finished runners-up at the 2015 Africa Cup of Nations and fourth in the just-concluded edition.

He also believes the Black Stars can win the Fifa World Cup in future if they are given the needed support.

"I can't rate myself after my stint with the Black Stars but I think I have built a good team for the future. The Black Stars have a lot of qualities and if the nation can give them all the support they need to be successful, they can even win the World Cup. With good attitude and quality, this team can always win you more," he said.

Grant played a total of 29 games with Ghana and won 14, with eight draws and seven defeats.