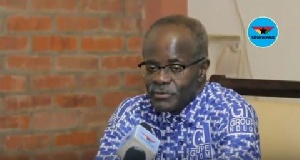 Groupe Nduom has accepted to be a partner sponsor of the revived national football Gala Competition which is scheduled to take place at the Nduom Sports Stadium on February 3rd and 4th, 2018.
The gala, which hitherto ushers in the new football season, was last held some 13 years ago.

Groupe Nduom has tasked three of its companies—the Nduom Sports Complex, Coconut Grove Hotels and GN Mobile Money—to lead the gala partner-sponsorship agreement with the Ghana Football Association.

The Groupe Nduom Sports Complex is thus offering the Nduom Sports Stadium for use by the 16 competing clubs as well as its staff that include ball boys, stewards, security personnel, ticket officials, cleaners, ambulance and medical officials to run through match formalities during the two day competition.

Coconut Grove Hotels, which is made of a chain of six hotels, is sponsoring the accommodation and the feeding of officials of the Gala Organising Committee and the GFA for three nights.

GN Mobile Money will be providing branded Polo Shirts for officials of the Gala Organising Committee, the GFA and the technical benches of participating teams as well as T-shirts that would be worn by players of the 16 competing clubs during their warm-up sessions.

The competition will also offer the visiting GFA officials, officials of the clubs, their supporters and other first timers to Elmina the unique opportunity of seeing not only the Nduom Sports Stadium, but also the Groupe's investments in many other sectors of the Ghanaian economy.
The warmth of the Groupe's hospitality is evident in the Coconut Grove Beach Resort its affiliates-Coconut Grove Village and the Bridge House all situated in Elmina, Central Region.

The Groupe Nduom Industrial Estate houses four of our companies—GN Electronics, GN Printing, Fresh Pak and GN Logistics. Our other Elmina based companies include GN Quarry, GN Concrete Products, GN Farms, Ahomka FM, Ahomka Fie Events place and the Nduom School of Business & Technology (Nduom University) located at Aboabo, Ayensudu, just miles away from Elmina.

Patrons of the gala can also access some of the unique and attractive landmarks of Elmina like the Elmina Castle and Fort Iago all built by the Portuguese in 1482 and 1660 respectively.

Groupe Nduom is a multi-national company of Ghanaian & American origin with over 60 companies operating in banking & finance, hospitality, investment advisory & management, technology, insurance, real estate, media, manufacturing & industry, education, entertainment & sports.

Some of our companies are located in the US, UK, Togo, Liberia, Cote d'Ivoire and Burkina Faso.