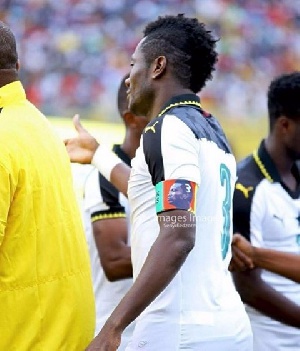 Ghana's extraordinary captain Asamoah Gyan has warned against attempts to drive a wedge between himself and Andre Ayew after his customized armband in a 2019 Africa Cup of Nations qualifier against Ethiopia caused a major stir in the West African nation.
The 31-year-old has come under torrential criticism after he wore a captain's armband for Ghana - with his OWN FACE on it.

When he was substituted in the second half, Gyan refused to hand his customised accessory to Dede Ayew to further fuel speculation regarding the leadership direction in the team.

But the former Sunderland hitman has rubbished the claims, insisting it's much Ado About Nothing.
"Captain's armband does not play football. I told Andre of the plan and we agreed before the game even begun."

"There is no need for this talk, what matters is that we won 5-0 so no one should try to destroy the Black Stars." Gyan said.

Gyan netted his 50th goal for the Black Stars but that feat has been overshadowed by his actions.