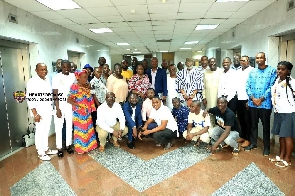 Board of Directors of Ghanaian giants Hearts of Oak convened a meeting with key stakeholders to provide comprehensive updates on the club's ongoing developments.
The gathering, chaired by Executive Board Chairman Togbe Afede XIV, featured participation from various Board members, including Dr. Nyaho Nyaho-Tamakloe.

During the session, attendees were briefed on a range of pertinent topics, such as the club's strategic direction, player recruitment, advancements in the Pobiman Sports Academy, the upcoming Phobia House office building, and updates related to the technical team.

Additionally, insights were shared regarding subsidiary teams like Auroras, Royal Oaks, and Oaks FC.

The Board emphasized the importance of unity among stakeholders and urged them to support the promising initiatives introduced.
Participants were reminded of the significance of avoiding the propagation of negative information that could tarnish the esteemed reputation and brand identity of Hearts of Oak.

The meeting fostered an open platform for stakeholders to voice their opinions and seek clarifications on pertinent club matters.

Notable figures, including former CEO Nii Ayibonte, NCC Chairman Elvis Herman Hesse, and AHOOOPA Chairman Evans Ayeequye, expressed their gratitude to the Board for orchestrating the informative session.