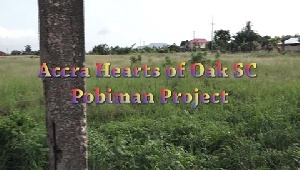 Accra Hearts of Oak's Pobiman training grounds has turned into a refuse dump following neglect of the facility by the club's leadership.
The Phobians have failed to develop the site into a state-of-the-art training complex despite a series of promises by successive managements.

In July 2016, it was reported that, the Board chairman of the club, Torgbe Afede XIV, had injected an amount of GH¢1.5millon as a seed money for the commencement of their Pobiman sports complex which was to be completed in early 2017




When completed, the Complex was suppose to house two football pitches, a club house, gym, swimming pool, offices, tennis court, classrooms, medical centre, dining hall, residence, hostel, changing room, stores and many other facilities a modern Sports Complex can boost off.


This Pobiman Sports Complex project forms part of the vision of the club's Board to turn Accra Hearts of Oak into one of the best managed institutions in the world but the current state of the site is one to behold.




The club currently trains at the Legon Ajax Park, a rented facility that belongs to the University of Ghana. They were ejected from the Legon training venue last year for failure to pay facility user fee.




The Pobiman land was acquired by the Phobians 27 years ago and it is now been turned into a refuse dump by neighbours.