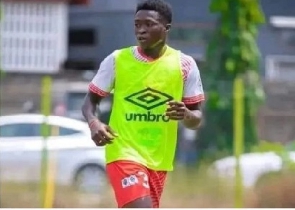 In a move aimed at nurturing the blossoming talent of Mohammed Arafat, Hearts of Oak has decided to loan the young prodigy to Sao Tome's Lativar FC.
Arafat, who joined Hearts of Oak just last season, has shown immense promise, and this loan spell is envisioned as a crucible for his growth and development.

The decision reflects the club's commitment to providing their players with the best opportunities for advancement. Hearts of Oak's management believes that Arafat's tenure with Lativar FC will instill in him the maturity and experience needed to return to the fold with renewed vigor and proficiency.
This development comes on the heels of Hearts of Oak's Dutch coach, Martin Koopman, expressing his belief in the value of loan spells for young players. Koopman, in his quest to create a dynamic and competitive squad, has opted to temporarily part ways with Arafat, deeming this stint with Lativar FC as a crucial phase in the player's evolution.

It's worth noting that this isn't Arafat's first move into a loan arrangement. Last season, he plied his trade with division one side Pacific Heroes, an experience that undoubtedly contributed to his growth as a player.