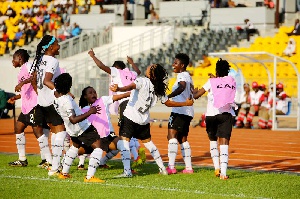 Algeria lost to Ghana by 1-0 in the opening game of Group A on Saturday afternoon and Algeria's playmaker Myriam Yasmine Benlazar – in an exclusive interview with FootballmadeinGhana.com – has spoken about the impact of the hot weather on her team's first-half performance.
Ghana dominated most of the first half and saw Gladys Amfobea score a screamer in the 12th minute on Saturday afternoon of 29 degrees Celsius in Accra but the North Africans improved their performance and were the better side in the second half when the weather was favorable.

"Yes, of course, we struggled to play under the hot sun in the first half. It [high temperature] had a negative effect on us and you could that changed in the second half." Yasmine Benlazar who plays her club football in France told FootballmadeinGhana.com in an exclusive interview after the game.

"We also struggled to keep the ball in the middle but we rectified that in the second half.
"We tried to level in the second half when we really came into the contest but unfortunately we couldn't," she added.

Algeria play Cameroon next whilst Ghana meet Mali on November 20.