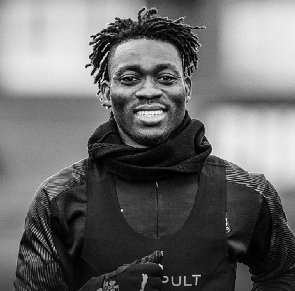 Former clubs of deceased Ghanaian winger, Christan Atsu have penned emotional tribute following the player's passing.
Atsu was confirmed dead on Saturday, February 18, 2023, after his body was recovered lifeless from the wreckage following a tragic earthquake in Turkey on February 6, 2023.

His former clubs Newcastle United, Everton, Chelsea, Bournemouth, Malaga, and FC Porto have all penned their tribute via their social media handle.

"We are deeply saddened by today's news that Christian Atsu has been found dead following the earthquake in Turkey earlier this month. Our thoughts are with his family, friends, and colleagues at

@Hatayspor_FK and everyone affected by this tragic event that has claimed so many lives," Everton wrote.

"We are profoundly saddened to learn that Christian Atsu has tragically lost his life in Turkey's devastating earthquakes. A talented player and a special person, he will always be fondly remembered by our players, staff, and supporters. Rest in peace, Christian," Newcastle United.
"Everyone at Chelsea Football Club is devastated to learn of the tragic passing of our former player, Christian Atsu. Our thoughts go out to his family and friends," Chelsea tweeted.

"We are saddened to learn of the passing of Christian Atsu. The thoughts of everyone at the club are with his family and friends at this awful time," Bournemouth tweeted.

"We are deeply saddened by the loss of Christian Atsu, a #MálagaCF player during the 15/16 season. Our condolences to his family, friends and teammates at his club, @Hatayspor_FK. Rest in peace, Christian," Malaga tweeted.

"It is with deep regret that we receive the news of the death of Christian Atsu, one of our 2013 champions. May he rest in peace. We send our deepest condolences to family and friends, a message that we extend to all victims of the earthquake in Turkey and Syria," FC Porto tweeted.


???? We are deeply saddened by the loss of Christian Atsu, a #MálagaCF player during the 15/16 season.

Our condolences to his family, friends and teammates at his club, @Hatayspor_FK.

Rest in peace, Christian. pic.twitter.com/39ZHWY1UY1

— Málaga CF English (@MalagaCF_en) February 18, 2023
We are saddened to learn of the passing of Christian Atsu.

The thoughts of everyone at the club are with his family and friends at this awful time. pic.twitter.com/FxIou7m0Cj

— AFC Bournemouth ???? (@afcbournemouth) February 18, 2023
Everyone at Chelsea Football Club is devastated to learn of the tragic passing of our former player, Christian Atsu. Our thoughts go out to his family and friends.

— Chelsea FC (@ChelseaFC) February 18, 2023
We are profoundly saddened to learn that Christian Atsu has tragically lost his life in Turkey's devastating earthquakes.

A talented player and a special person, he will always be fondly remembered by our players, staff and supporters.

Rest in peace, Christian. ????????

— Newcastle United FC (@NUFC) February 18, 2023
We are deeply saddened by today's news that Christian Atsu has been found dead following the earthquake in Turkey earlier this month.

Our thoughts are with his family, friends, colleagues at @Hatayspor_FK and everyone affected by this tragic event that has claimed so many lives. pic.twitter.com/W3mWlMcAuf

— Everton (@Everton) February 18, 2023
É com profundo pesar que recebemos a notícia da morte do Christian Atsu, um dos nossos campeões de 2013. Que descanse em paz.

À família e amigos, enviamos as mais sentidas condolências, mensagem que estendemos a todas as vítimas do sismo da Turquia e Síria. pic.twitter.com/pV0ekbEJFV

— FC Porto (@FCPorto) February 18, 2023
EE/DA