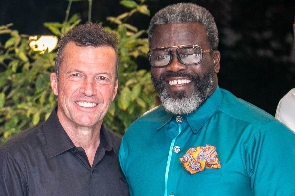 Former Ghanaian footballer, Sammy Kuffour recently shared an intriguing tale involving German football legend Lothar Matthaus, who offered to pay his signing fee when Bayern Munich was reluctant.
Kuffour's football journey began when he left Ghana at the age of 15 after being discovered by King Faisal, eventually joining Italian side Torino.

After a short stint with Torino at the youth level, Bayern Munich expressed interest in signing the promising Ghanaian defender. However, the German's were not willing to meet Torino's asking price of $500,000 in 1993.

It was during this time that Lothar Matthaus, who had witnessed Kuffour's impressive performances during trials, stepped in with an unexpected offer.

Matthaus offered to cover Kuffour's transfer fee himself, foreseeing the potential returns once the young Ghanaian had developed.

Kuffour recalled the situation, saying, "When I arrived in Germany and started training with the first team, Lothar told me I was good. Torino demanded a hefty sum of half a million dollars in 1993, but Bayern Munich didn't want to pay it. Lothar said, 'We know this guy is good, so I will pay the money from my own pocket. Once he develops, you can pay me back tenfold.'"
Impressed by Matthaus' confidence in Kuffour's abilities, Bayern Munich swiftly resolved the issue with Torino, allowing the young defender to join their ranks.

Kuffour expressed his gratitude, stating, "Bayern immediately signed me after that. I was very young, but he saw the potential in me."

He considered playing alongside Lothar Matthaus a dream come true, saying, "As a young player, I watched him play in the 1990 World Cup and win Player of the Year. Now, standing on the same pitch as him, what more could I ask for?"

Sammy Kuffour shared the story when he met his former Bayern Munich teammate, Lothar Matthaus at the German Ambassador's residence in Ghana.

JNA/OGB