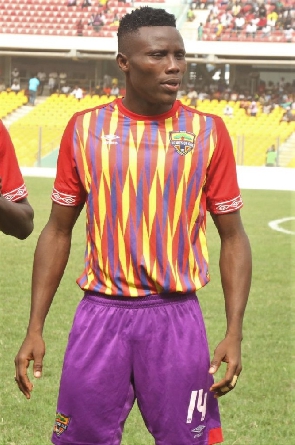 Former Hearts of Oak defender, Robert Addo Sowah, says he is fortunate to have left the Phobian Club in peace without any trouble.
The Ghana Premier League last week confirmed that they have parted ways with the defender following the expiration of his contract.

However, in an interview, Sowah revealed that for circumstances beyond his control, he would have stayed at the club till he retired since he felt at home while there.

Responding to how he managed the many misunderstandings that ensued, he said: "It's all in the mind. I psyched myself not to engage in any quarrel with any teammate, management member or supporter, and that helped me till today," he told Graphic Sports.

"Of course, we are humans so definitely we shall disagree on issues and argue; but whenever it happened, I always remained calm and looked at what triggered that misunderstanding, and then tackle it from the roots."

Reminiscing the past, Sowah, 29, said during the 2017/2018 league season, he felt unwanted and almost crushed into the deepest depths of self-pity and self-doubt, especially after he spent several months on the bench without kicking a ball.
However, when he finally got the chance to play, he said he proved his mettle and his efforts helped to solidify the leaking backline.

"During Coach Frank Nuttal's time, I was on the bench for a whole season without kicking a ball, and I felt so bad that I wanted to leave the club," he recalled.

"So, one day, when we were going to play Inter Allies in the MTN FA Cup, I told myself that if I don't get selected, I would leave the club. Fortunately, when the list came my name was in the starting line-up.

"Surprisingly, that day, I scored a goal and gave an assist to Joseph Esso to score. The fans became so happy that they demanded I should be featured in more matches. That's how I became a constant starter in the team," he added.

From then onwards, Sowah offered versatility at the club, slotting into both left-back and centre-back roles to good effect due to his ability to read the game and effectively distribute the ball.
"Whenever we got a new coach, they underrated me, but when they give me the chance, they are always proud of me," he narrated further.

Throughout his seven-year stint with the club, Sowah distinguished himself as a committed and dependable defender with a patient personality.

Sowah won the 2020/21 Ghana Premier League title and FA Cup, as well as the President's Cup in 2022.

He joined Hearts from Division One side, Uncle T United, in 2016. However, his management is yet to secure a new contract for him after leaving Hearts.