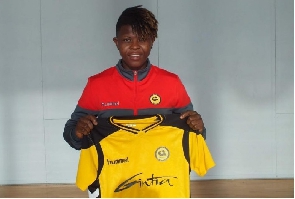 Turkey-based Ghanaian footballer, Priscilla Okyere has recounted scary moments after surviving the earthquake that hit the country.
A 7.8 magnitude earthquake struck the country on Monday, February 6, 2023.

Speaking in an interview, Okyere revealed that the disaster has left her fearing for her life, and hasn't been able to sleep for the last four days.

"I have not been sleeping for four days - I'm so scared to go to sleep. Even today, we had a safe place to sleep. I haven't closed my eyes from 5am till now," the midfielder told BBC Africa Sport.
"When someone bangs the door, I wake up because I'm scared. I don't want to close my eyes and realize this thing is happening again."

"I was terrified. I cried for days. I can't imagine how lucky we were to get out of that situation because most people couldn't get out. But we were able to," she added.

Okyere previously played for Ampem Darkoa Ladies in the Ghana Women's Premier League.