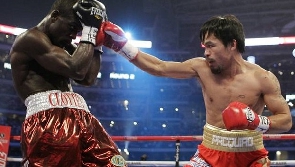 Former IBF world champion, Joshua Clottey, has disclosed that he deliberately lost his fight against Manny Pacquiao in 2010.
Clottey fought the Filipino boxer at the 50,000-filled Cowboys Stadium in the USA on March 13, 2010.

Despite not being knocked out by Pacquiao, Clottey who did not fight to his best lost the bout by a unanimous decision.

Nearly 13 years after the fight, the Ghanaian has revealed that he deliberately lost the fight as a result of negotiation issues with his manager Vincent Scolpino who cheated him.

In an interview monitored by GhanaWeb Sports, Clottey said, "The manager had already accepted $1 million as payment, I came in and negotiated to $1.350 million. It was a fight I was supposed to get $2 million as the pay.

"The Pay-per-view was $100 for each viewer but he negotiated $3 on my behalf out of the $100. Even with the $3, I could only earn my share after 300,000 buyers. So if 300,001 people buy I will earn only $3.
"I tried negotiating but they claimed if I can't fight I should leave so I had to take the fight. Meanwhile, the manager was making 33% profit from each Pay-per-view income including the fight money," he told JoyNews.

The former welterweight champion expressed his regret in not being able to maximize his big opportunity to make more money from the bout. Clottey noted that he regrets ever listening to his trainer allow Vincent Scolpino to negotiate on his behalf.

"I regret signing with that manager, I regret listening to the trainer but it made me strong not to allow anyone to negotiate on my behalf. I was supposed to make more money.

"I was not happy about the Pacquiao fight because I had three more years on my contract with my manager so I decided to blow it up. I even went to his office to negotiate for him to take 25% so I take 8% but he said no," Clottey said.

JNA/WA