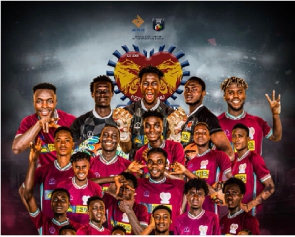 President of Heart of Lions, Dr Randy Abbey, has vehemently denied allegations suggesting that he used his influence to secure his club's promotion into the Ghana Premier League.
Heart of Lions, based in Kpando, clinched the Zone Three title in the Division One League with five matches remaining, surpassing fierce competitors Vision FC and Koforidua Semper Fi.

Dr Randy Abbey, who also serves as an executive council member of the Ghana Football Association, dismissed claims that he leveraged his position for unfair advantages.

He emphasized that his influence within the association was relatively insignificant compared to other club owners, pointing out higher-ranking GFA officials who could have potentially exerted more influence if favouritism were at play.

"If there was any favour, it was the favour of God and not favour from anyone else," Dr Randy Abbey clarified. "Until the 19th and 20th week, Heart of Lions was neck-and-neck with Semper Fi, which is owned by the GFA Vice President, and Vision FC, which is owned by Michael Osekre, the GFA Chief of Staff. It was a three-horse race."
Dr Abbey continued, "Considering the presence of these influential individuals in the competition, it was impossible for favouritism to occur. It was a closely contested race, but we managed to take an early lead and eventually widen the gap."

After enduring relegation at the end of the 2015 Ghana Premier League season, Heart of Lions spent eight years in the lower division and are determined to make a significant impact upon their return to the top flight.

JNA/OGB