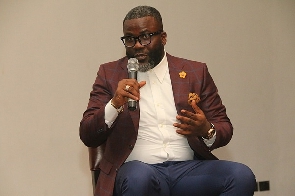 Former Ghana defender Samuel Kuffour says he does not regret the blunder he committed during the Black Stars 2006 FIFA World Cup encounter against Italy.
The ex-Bayern Munich guardsman played a significant role in Ghana's debut qualification to the 2006 FIFA World Cup in Germany.

The centre-back is widely remembered for a famous back pass-gone-wrong, which led to Vincenzo Iaquinta scoring the second in a 2-0 defeat to Italy.

The game marked Ghana's first ever appearance at the mundial, with Kuffour, then a 29-year-old veteran, on the books of Serie A side AS Roma.

According to him, he does not regret the mistake, saying what happened to him could have happened to any player.
"I don't regret my mistake. As a footballer why would you regret one bad game," Kuffour stated on Joy FM.

"I was a professional so I wasn't bothered because I had done so many mistakes in the past. Why should I still be thinking about it."

"How many players scored an own goal at the World Cup, six, and one of them went on to win the World Cup. I remember Messi missed a penalty against Chelsea at a crucial stage in the Champions League, did Barca fans kill him?

Kuffour never made a return to the Ghana set-up after the error, watching from the bench as the Black Stars reached the round of 16.