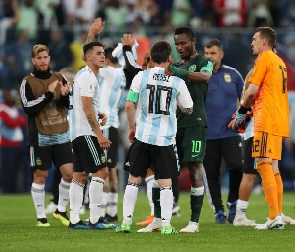 Chelsea legend, Mikel John Obi, has opined that Lionel Messi is a better footballer than Cristiano Ronaldo and that he does not see how the two are been compared.
Mikel argues that Messi's talent is unmatched and believes that the Argentine football icon is from another planet.

Speaking on how difficult playing against Messi was, he said the game plan to face the 8-time Ballon d'Or winner was to 'kick him'.

"For me, Messi. Messi was the guy. The training the whole week was about Messi. The game plan was just to kick him. You have to have two or three players with him. You can't defend 1v1 against Messi, it's impossible, and you're dead. And the way they move the ball around, the way they play, the sole purpose of getting the ball to him...so difficult, the way he touches the ball, the way he moves it, the way he passes it," he said on Vibe with Five podcast.

"I know the comparison is there but...I played against both and Messi was very very close to me when we played against them. For me, I'm not going to say mile but because of what Cristiano has done as well. But for me, I really don't see the comparison in some way. Because I think Messi is from a different planet and I just think he is that good."

Lionel Messi and Cristiano Ronaldo's rivalry has been the longest between two players competing for the spot as the greatest of this generation.
The argument stretches to who among the two can be rated as the Greatest Player of All-Time (GOAT).


????????Mikel Obi talking about playing against Messi when he was at Chelsea ????️

" There is no comparison"pic.twitter.com/1TRoO9FbNw

— Barça Worldwide (@BarcaWorldwide) November 16, 2023
EE/EK