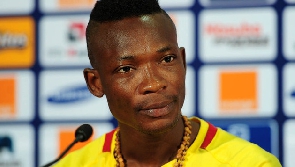 Former Black Stars right-back John Paintsil has disclosed that chaos, factions and disunity were the order of the day during the 2002 Africa Cup of Nations.
Paintsil noted the senior colleagues in the team bullied their younger counterparts which created an unhealthy environment in the team.

Speaking to Kasapa FM, the former Fulham fullback revealed exchanging blows with Emmanuel Osei Kuffour.

After being bullied by the then Hearts player repeatedly, Paintsil could no longer stomach the actions and decided to take the fight to his bully.

Though they both exchanged punches, no one got hurt in the altercation. Paintsil prefers to call that period a rebuilding period with its point of recognition being the 2006 World Cup.

"I fought with one of my seniors during that tournament. Emmanuel Kuffour the General is that player. He brought the fight. He was bullying and making life uncomfortable for me in camp. I know he will laugh over it now because we have moved on. He really made feel bad in camp so one day I just couldn't tolerate him any longer so I threw the punch, he replied and we fought".
"The national team was rough at that time but I think we were rebuilding. There was no unity among the players because everyone felt he was a senior", he said.

The Black Stars were quarter-finalist in their tournament as hopes of a fifth title were dashed by 1-0 defeat to Nigeria.

The chaos and disorderliness in the team in that tournament can also be realized in the axing of Sammy Kuffour from the team's camp.

Officials say the former Bayern defender was sacked for being indiscipline but he recently in an interview with Joy FM rejected those claims.