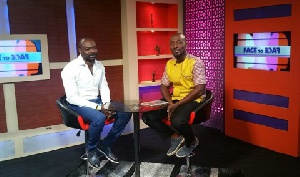 At 34 years with an injury-plagued career, former Ghana captain John Mensah insists he is not done with active football yet.
According to the defender, he has recovered from the niggling setbacks that have kept him out with the belief he still has some football in him.

"I've not quit football; not now," John Mensah stated on the 'Face To Face' segment of Agoo TV's Dwidwamu Sports Thursday.

"After my time with Lyon, I went to Sweden but injuries did not allow me to play a match for them. I had to leave after the contract ended in November 2016 so I came back home.

"I have been undergoing some special training. I'm okay now but because I've been inactive, I'm not eager to return to the national team now.
"I cannot expect to be called while in this current state. I'm hoping to get back to club football abroad then we see what happens," the former Sunderland centre-back added.

Asked about relaunching his career with boyhood club AshantiGold or any suitable local side, Mensah said the thought has never crossed his mind.

"At AshGold, I only played in the Academy before travelling out. I never had the feel of the Ghana Premier League so the connection is not really there. To be honest, I've not really set my mind on playing in the local league," he revealed in the interview with Adam Adjei.

Dwidwamu Sports is a 90-minute package of news and discussion from the sporting world which airs immediately after the 2-hour breakfast show, Yensempa on the EIB Network-owned Agoo TV every weekday. It is anchored by Adam Adjei and Michael Tuffour.