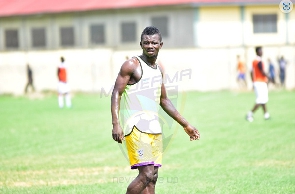 Medeama FC captain, Kwasi Donsu, has expressed his confidence in the newly appointed Technical Director of the club, Evans Adotey.
Adotey has returned to the club for the third time and has been hired to lead the team for the remainder of the 2022/23 season following the departure of former coach Umar Abdul Rabi.

Donsu, who has been with the team for an extended period and previously worked with Adotey, believes that the appointment of the new Technical Director is a positive move by the club.

In his own words, "I have been with the team for a long time. I've worked with him (Adotey) before, and I'm happy he has rejoined us.
"We are happy, and I'm confident he will help us achieve our targets this year. We thank him for accepting the offer to work with us."

Adotey is a well-known Ghanaian coach who has led both male and female teams.