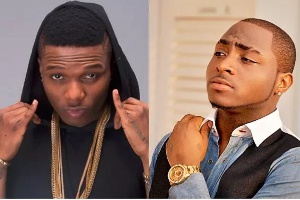 Nigerian singer, Davido, has expressed disappointment in his fans and fans of his afrobeat counterpart, Wizkid, over their bitter rivalry on social media.
Wizkid fans who tag themselves 'Wizkid FC' and Davido's fans are always engaged in hot arguments on social media which most times degenerate into bitter comments about the two artistes.

Recall that a few weeks ago Davido had warned fans to be productive with their lives and stop the unnecessary bickering, saying he has no issue with Wizkid.

A Twitter user believed to be a fan of Wizkid posted a cryptic comment on the microblogging site on Sunday which caught the attention of Davido and prompted his expression of disgust in how far the fans have gone in their bitter rivalry.
In a tweet that has since been deleted, the fan @Vicwiz4, while reacting to another tweet, wrote:"But they didn't use Wizkid mother for rituals unlike @Davido's mother."

Davido quoted the tweet and wrote:"Davido fc wizkid fc has it gotten to this! Bull shit disappointed in both my fans and his! Nonsense"


Davido fc wizkid fc has it gotten to this ! Bull shit disappointed in both my fans and his ! Nonsense https://t.co/JD25r6aPGC

— Davido (@davido) December 15, 2019